Superfruits are fruits that are not only full of nutrients, but are also rich in fiber and polyphenols that can help people live longer, look better, and prevent diseases.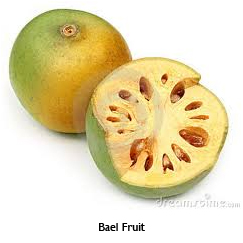 While different sectors still argue about its exact definition, it is generally agreed upon that superfruits are low-calorie, nutrient-rich food can have putative effects such as anti-inflammatory, antioxidant, and antibacterial properties.
The top selling superfruits in the world are acai berry, cranberry, coconut, elderberry, and goji berry. However, fruits such as kiwi, grape, grapefruit, mangosteen, pomegranate, dragon fruit, and cantaloupe are also associated with the label.
Some fruits from South Asia can also be considered super. Bael (Aegle marmelos) is one such fruit. Traditionally, it is used in indigenous medicine to alleviate stomach problems, especially for constipation and diarrhea.
The bael fruit pulpis found to be rich in tannins and the active ingredient Marmelosin. Studies have shown that Marmelosin is responsible for the beneficial effects on the digestive system. Meanwhile, the mucilage gum of unripe bael has been found to be a potential binder for pharmaceuticals.
Mangosteen (Garcinia mangostana) and soursop (Annona muricata) are other superfruits grown in Sri Lanka. It has been found that mangosteen pericarp or rind is rich in Xanthone, which has antioxidant, anti-bacterial, and anti-fungal properties. On the other hand, the acetogenin found in soursop pulp has the potential to slow the growth of cancer cells.
Most tropical fruits are very perishable when fresh and need to be processed to extend the shelf life. However, some polyphenols are heat-sensitive and can be destroyed during processing. Using aseptic processing with eco-packaging will minimize heat damage, extend shelf life, and preserve the bioactive compounds.
Some tropical fruits are also very tart and needs to be diluted to make it more palatable. The addition of young coconut (Cocos nucifera) water to dilute these fruits is the ideal option for value addition. Young coconut water is high in potassium content and has low brix value.
__________________________
This article is adapted from a presentation by D. B. T. Wijeratne, Ministry of Agriculture, Sri Lanka at the International Symposium on Superfruits: Myth or Truth, Vietnam, 1-3 July 2013.
All photos are from the powerpoint presentation.