Earlier, the media alleged that Chinese lychee were imported into Vietnam via several border gates, such as Coc Nam and Tan Thanh, in northern Lang Son Province.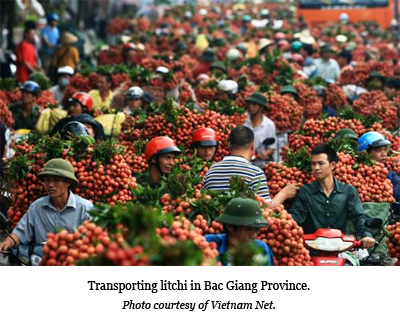 Due to tension in the East Sea, Vietnam's exports of litchi to China have ceased. Deputy Minister of Industry and Trade Do Thang Hai said at the press conference that to help northern farmers sell their litchi, the Ministry has created favorable conditions for farmers to transport litchi to the south. Hai said that about 60-70 per cent of lychees grown in the North had been sold down South.
Hai added that the East Sea tension had caused the Vietnamese people to use more Vietnamese-made goods.
Hai said that the Ministry had planned to diversify the market for Vietnamese goods before China's deployment of its oil rig in Vietnam's waters, but now trade relations have become worse.
The Ministry of Industry and Trade has been actively negotiating trade agreements with eight new markets, including Eastern Europe, the Middle East and Africa besides familiar markets like the U.S. and the EU.
The Government Office's Chair said that in the last cabinet meeting the Government had discussed measures if China restricts or closes its border with Vietnam and if it happens, the local economy would not be affected much.
The government is determined not to adjust the economic targets set at the beginning of the year and strives to reach GDP growth rate of 5.8% this year.
Deputy Governor of the State Bank Nguyen Dong Tien has committed to supply sufficient capital to businesses to boost production.
Mr. Nen also said that the Vietnam-China border gates are not closed. China is only tightening control over trade activities at some border gates.
Source: Vietnam Net