Following the breakthrough in mango exports between private sectors in 2013, Pakistani mangoes are now being sold for the first time by the largest high-street retailer in Japan, AEON Corporation – a $57-billion entity.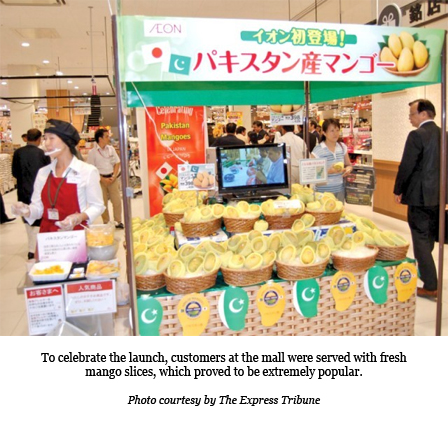 The development came in the form of a soft launch at the new AEON Makuhari Mall – one of the largest in Tokyo. To celebrate the achievement, customers at the mall were served with fresh mango slices, which proved to be popular.
Addressing the media, Pakistan's ambassador to Japan Farukh Amil said the taste and richness were not just confined to mangoes but were hallmarks of different fruits and vegetables from Pakistan. He emphasised that orchards in Pakistan were Global GAP certified.
The ambassador stressed that persistent efforts of the commercial sector to promote Pakistani fruits and vegetables in the Japanese market and its constant direct liaison with AEON had led to the breakthrough.
Amil underscored that mangoes would be the thin-end-of-the-wedge tointroduce Pakistani produce to the consumers in Japan. He was also grateful for AEON for its cooperation.
AEON Chairman Hiroshi Yokoo welcomed the ambassador and Fauji Fertiliser Company (FFC) Chairman Lieutenant General (retired) Naeem Khalid Lodhi as he joined them on the merchandise sales display. Yokoo thanked the Pakistan team for making the inaugural event possible.
The ambassador said that he has confidence in the GAP-certified mango exporters from Pakistan, especially companies like FFC. Agreeing with Amil, Lodhi expressed hopes of more agricultural products being introduced by AEON in due course of time and appreciated the idea of farms in collaboration with the company, dedicated to exclusive production for the Japanese market.
"Pakistan will be able to meet the Japanese demand and expand into new areas with further market research, development and coordination," said Lodhi.
The Pakistan ambassador also noted that while the business aspect of the mango was important, the trade had broader relevance. He said that cuisine and exchange of agricultural products increased awareness between countries and helped build better relations.
Source: The Express Tribune