The Ministry of Agriculture and Cooperatives is planning to prevent longan prices from plunging by distributing the fruit through its network of agricultural cooperatives and the postal service.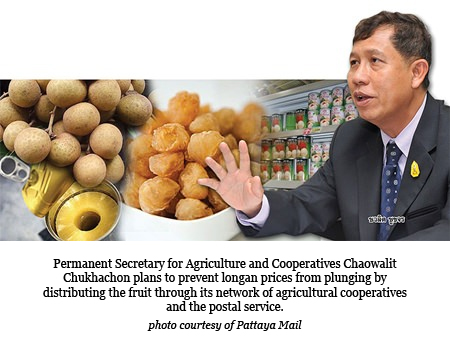 According to Chawalit Chukhachon, the permanent secretary of the Ministry of Agriculture and Cooperatives, approximately 530,000 tons of longan will be produced this year – 80,000 tons more than last year's production. Large amounts of the fruit will hit the market during August and September, possibly causing the price to fall.
To address the possible low price resulting from oversupply, the Agriculture Ministry is planning to distribute at least 5,000 tons of longan through agricultural cooperatives nationwide. It will also make agreements with retailers which operate Tesco Lotus and The Mall department stores for the latter to buy at least 500 tons of longan from the cooperatives. Thailand Post will also lend a hand by selling top-grade fresh longan from the Pratu Pa agricultural cooperative in Lamphun at 235 baht for a 5-kilogram box; each purchase will be delivered to the buyer's home.
According to Mr. Chawalit, the agriculture sector expanded by 0.8% in the first half of the year as a result of better production planning and production standard.
Mr. Chaowalit Chukhachon said longans from the eight northern provinces during this period were small in size and sold cheaply after the farmers hastily harvested their produce. The ministry had instructed provincial agricultural offices to help the farmers as well as entrepreneurs of barn-dried longans, Mr Chaowalit said.
The ministry also helped by urgently distributing the produce to other regions and encouraging consumers to eat longans, the official added. Large longan vendors were asked to set prices appropriately without hurting the farmers.
Source: Pattaya Mail