by Carmen Brown, ABC
Researchers trialling hot water treatments for disease control in Fijian papaya crops say the technique could also help Australian growers reduce their post-harvest fruit losses by up to 60 per cent.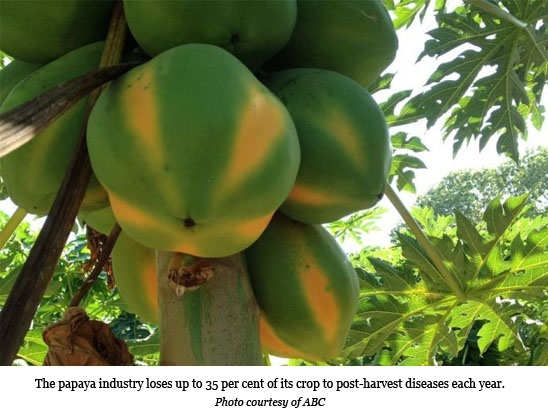 About a third of Queensland's wet season papaya crop is lost to post-harvest diseases such as anthracnose and stem rot each year, costing farmers thousands of dollars in lost production.
Dr Robert Henriod, from the Queensland Department of Agriculture, said the Fiji trials demonstrated just how beneficial hot water dips could be for growers in northern Australia.
"We can reduce disease anywhere up to two-thirds compared to untreated fruit," he said.
"So we believe hot water is a really good complementary treatment for reducing diseases.
"There would be some financial investment by the growers to actually install a hot water tank system, and at this stage we don't have any numbers on what that would cost.
"But it would be very cost effective over the long term, based on the results we've seen in the lab."
The technique involves dipping fruit into tubs of heated water, with the best results achieved when papaya is submerged in 52 degree water for five minutes.
Dr Henriod said that with local growers already showing strong interest in the method, the research team was eager to begin farm trials here in Australia.
"We've actually spoken to quite a few growers, and they've been very supportive and interested in the results," he said.
"Speaking to a large grower towards the end of last year, he was quite concerned with the cost of fungicides.
"He was also quite interested in the 'clean green' appeal that comes with not using any chemicals. That can be part of the branding as well."
Source: ABC