Support from overseas Vietnamese is crucial to help Vietnam's agricultural products penetrate deeper into global markets, Minister of Agriculture and Rural Development Cao Duc Phat said Monday in Ho Chi Minh City.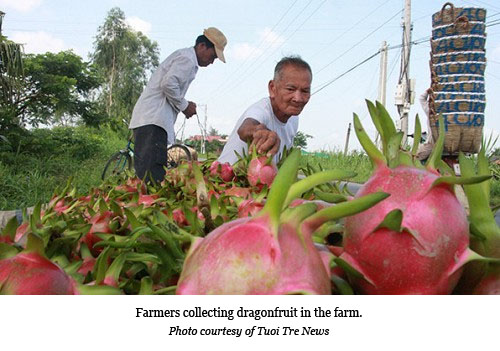 Vietnam is capable of producing rice, fruit and seafood that meet international standards but fails to find outlets for the products, the minister said at a forum meant to connect local businesses and overseas Vietnamese (Viet Kieu) businesspeople.
"We hope that Viet Kieu can be a bridge to help Vietnamese agricultural produce go further [on the world market]," Phat said.
Many Viet Kieu pinpointed a number of shortcomings in the way Vietnamese products are exported to other countries.
"It is tough for the blue dragon fruit to reach the Canadian market, but the fruit is displayed in sheer piles," one of the overseas attendees said. "There is not a single word of introduction so how could foreign customers know what it is?"
Dinh Kim Nguyet, a Vietnamese Canadian, said a Vietnamese mango costs as much as CA$30 and a bunch of bananas CA$40 in Canada, far higher than in Vietnam.
"But Vietnamese products must meet food safety standards to qualify for export to Canada," Nguyet said.
Transportation is also a tough issue, according to the Viet Kieu.
Nguyen Thi Mai Lien, an overseas Vietnamese in Russia, said it is too costly to import Vietnamese fruit by air, whereas it takes as long as two months in the case of ocean transport.
"We hope that Vietnamese scientists can find a way to keep the fruits fresh for longer periods so that they can be transported by sea," she said.
In response, Minister Phat said the ministry is working with Japanese companies which will transfer post-harvest preservation technology to Vietnam.
"We have acknowledged the drawback of being unable to preserve the products and are trying to fix it," he said, adding he also hopes to have the issue resolved soon.
The minister also pledged to simplify administrative procedures to attract overseas Vietnamese investors to the agriculture sector.
"If you face difficulties in terms of administrative procedures, it's our fault," he said. "So please tell us your problems so we can both solve them."
Source: Tuoi Tre News