A Queensland fruit grower says local markets are playing a crucial role in helping farmers get back on their feet after Tropical Cyclone Marcia.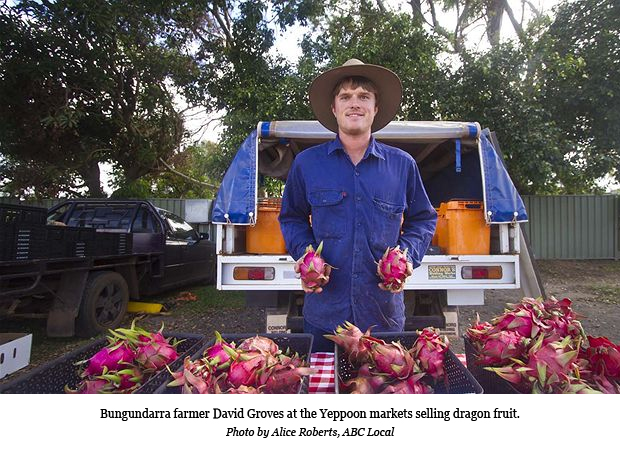 Bungundarra farmer David Groves says his family's business, near Yeppoon, was badly damaged by the cyclone which hit the central Queensland coast in February.
But the Yeppoon markets are helping growers to maintain an income.
"I use them to earn a bit of pocket money and basically it's a really great way for us to sell some of our third grade fruit which is unacceptable to people in the big cities but here it still tastes the same and it's cheaper than the really pretty fruit, so it's a great way for us to use up our third grades and not feed them to the cows," he said.
"At a time like this, it's the only income we're going to have for quite a while."
David says locals at the markets are not put off by the altered appearance of the fruit.
"At the markets the vibe has just been fantastic, everybody is happy to keep buying the fruit even though it's a little bit wind battered," he said.
"The moral support is really nice too."
On the Groves family farm they grow lychees, mangoes, avocadoes and a small amount of dragon fruit on their coastal property but lost a number of trees in the disaster.
"Most of our younger trees had issues but the older ones that had been pruned for a few years did quite well," he said.
Rows of trees that provide a wind break for their produce were also badly damaged and fell onto parts of their orchard.
David says much of this season's crop was also damaged.
"Our avocado crop has been shattered and the last of the mangoes," he said.
David says they have taken the damage in their stride.
"Basically it means an awful lot of work and probably about 12 months worth of propagation for replacement trees, pulling timber out of the orchard, removing dead trees and it has set our business back by a year or two I'd say," he said.
"We're still here, we're not going anywhere, it's just going to set us back a little bit but we'll be fine."
Avocado prices still strong
Avocados Australia chief executive John Tyas says central Queensland produces about 25 to 30 per cent of the country's avocados.
He says while three farms were impacted by Tropical Cyclone Marcia, larger production areas in southern central Queensland were not impacted.
Damage was sustained at a property near Capella, Gracemere and the Groves' farm near Bungundarra.
"At least two of those properties did suffer extensive damage to the crops they had on the trees," he said.
"It will take time to learn the long-term impact on the trees."
But Mr Tyas says the futures market indicates prices will remain strong which will help affected farmers recover.
"Hopefully they'll get back into production next year if they can get those trees recovered and get them producing again," he said.
"All indications are that the avocado market is going to be strong into the future with very strong consumer demand."
Source: ABC.net.au