Durian lovers who want to enjoy the King of Fruits and at the same time chip in to help fulfil wishes of terminally ill children have slightly more than a week to buy their tickets for Jom Durian 8.
Touted as the biggest charity durian fest in the country, Jom Durian 8 is going to be held at The Summit Subang USJ on August 1. Children's Wish Society of Malaysia vice-president Teoh Teik Hoong said the tickets which are priced at RM20 (USD 5.25) per piece are being bought up very quickly by members of the public.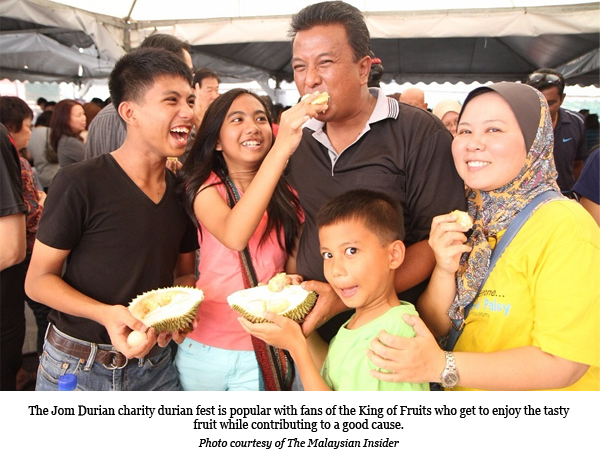 "Each ticket is RM20, giving the ticket holder one hour to eat all he or she can. It's a feast for durian lovers while giving them a chance to help us fulfil wishes of terminally ill children across the country.
"This year, we are bringing in seven tonnes of durian. There will be four public sessions throughout the day for members of the public to enjoy local kampung durian with some surprise mix of top grade durian," Teoh said.
Jom Durian 8 is fully sponsored by The Summit Subang USJ in collaboration with CWS Malaysia and SJ Echo, Subang Jaya's community newspaper. The event, which is in its 8th year, is the biggest eat-all-you-can charity in the country.
"Session 1 tickets which are from 11am to noon have been sold out. We have tickets for Session 2 (12.15pm to 1.15pm); Session 3 (1.30pm to 2.30pm) and Session 4 (2.45pm to 3.45pm) still available for sale.
"Each session will have their fresh batch of durians served together with rambutan and mangosteens," Teoh added. More than 2,000 people from all walks of life are expected to attend the event throughout the day, enjoying the King of Fruits for a good cause.
The Children's Wish Society of Malaysia is a national charity dedicated to fulfilling the wishes of children stricken with life-limiting or terminal illnesses across the country.
The society has fulfilled more than 450 wishes in the last seven years, investing RM2.2 million in donations to bring back smiles to children below 18 who suffer from terminal illnesses.
More information on CWS Malaysia is available on its Facebook page. Tickets for Jom Durian 8 are now on sale at The Summit Subang USJ. For more details, call
03-8023 3493
03-8023 3493 and ask for Wivien or Debbie.
Source: The Malaysian Insider