by Catherine Harris, Stuff.co.nz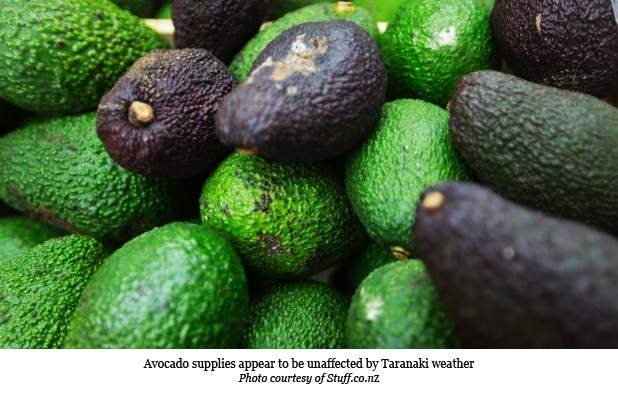 Avocados are not likely to be too hard to find on supermarket shelves, despite freak weather in Taranaki seriously denting the crops there.
Several Taranaki avocado growers have complained of a bad season because of high winds.
Grower Steve Wright said: "It's not just a mild wind that comes through, they come through and they just hammer your place and what happens is, because the avos hang on a stem, they just twist around and break".
They also pointed to the high price of avocados in supermarkets, saying the price was as much as twice as much as they had been at the same time in previous years.
Consumer across the Tasman have also been paying high prices for their favourite avocado fix. Prices shot up to A$7 (NZ$7.57; USD 4.99) a fruit, with both bushfires and market manipulation being blamed for the shortage of supply.
Supermarkets would not answer questions about prices, but said there was no supply problem with avocados.
Countdown spokesman James Walker said its supplies continued to meet customer demands. The fruit were selling for $2.49 each on Countdown online.
Antoinette Laird, a spokeswoman for Foodstuffs, said its supplies were also "robust" because it was able to source from around the country.
This year was an "off year" for avocados, which tended to have alternately big and smaller crops, she said.
"I have been advised that this year is a light year for fruit production, in fact it is the lightest in approximately the last six years."
Prices were also affected by export demand, which had been high this year.
"Some of our stores do choose to purchase smaller avocados so they can offer them at better prices. Alternatively, others buy larger export quality fruit which may retail at a slightly higher price."
NZ Avocado chief executive Jen Scoular said Taranaki was a small avocado growing area so what happened in that region would not necessarily apply to the rest of the country.
But she said this year's crop had been moderate, demand was growing 10 per cent a year, and it was coming up to the tail end of the season, so prices could well be high.
"It's a fresh fruit so as you know with tomatoes, just when your tomatoes are finally coming out they're about $1 a kilo but other times they're $6.99 for a tiny little punnet."
The good news was that there was a bumper crop looming for next season, she said.
Source: Stuff.co.nz