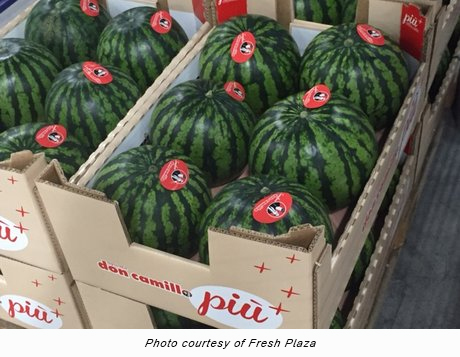 A new range to promote premium melons and watermelons – Don Camillo Più has its own packaging and is available in the 6-5-4 fruit versions.
Ettore Cagna, president of Agricola Don Camillo, told us everything about the new range, which will be available until September.
Mini and midi seedless watermelons have been introduced by Don Camillo in 2016. The fruit weighs between 2 and 6 kg and is currently being cultivated on 200 hectares. The varieties chosen are exclusive to Don Camillo and have very high Brix levels.
For what concerns Charentais melons, Ettore explains that "we invested a lot on this variety to push consumption. We all know people go back and buy a product that does not disappoint them."
Both products can be cultivated well both in the South and Centre-North Italy. Cultivars are not particularly productive and require special attention, meaning higher costs. "Just think that the yield per hectare of Charentais melons is only 60% that of traditional varieties, i.e. 20-22 tons per hectare against 30-35 tons per hectare. However, sugar levels are 16-18° Brix, so they are delicious!"
"We opted for a pastel colour for the packaging and we are also considering crates with only 2-3 fruits."
Source: Fresh Plaza