Normally, the salak skin would be thrown in the trash. However, under the hands of a junior high school known as Sekolah Menengah Pertama (SMP) Muhammadiyah Programme Course or Program Khusus (PK), the skin can now be made into a refreshing drink.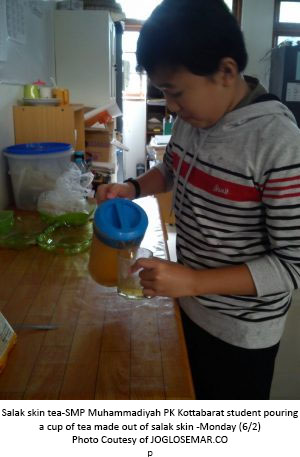 This processing was done by 30 students who came together under Karya Ilmiah Remaja (KIR)
According to the explanation given by the KIR SMP Muhammadiyah PK Kottabarat Builder, Nurul Fitria, the skin of the fruit was chosen because the fruits part are the ones that were normally ultilized.
From the flesh for fruit, the seeds can also be made into coffee and the skin is usually used to make tea. Besides, the fruit is easy to get by the students.
"Before we had this activity, we also ultilize the salak fruit seed for coffee. Now, we would like to ultlize the skin for tea," said Nurul during her activity breaktime, on Monday (6/2/2017).
The ultilzation of salak skin for tea was an experimental observation from the KIR extracurricular. Before this, it had gone through a historical research about the beefits of the fruit and the health benefits.
The processing of the salak skin tea is quite easy. The first method is to choose good quality salak skin, the next method is to wash the salak skin until it is cleaned, the skin that was washed was then boiled until the boiling water changes colour to brown colour.
The resulted solution was then filtered and the boiled water was added honey. With that, the honey salak skin tea would then be ready to be enjoyed.
"Normally, the salak skin would be thrown away, now it is commonly utilized to be made as tea. I would love to try it at home," said Rafael Wicaksono Hadi from Class 7A during her processing break.
Muhamad Raffa Sayoga from Class 8A, added that this activities teaches us to be grateful to Allah SWT for all of His creations which is evidently seen as beneficial, including the salak skin.
Source: JOGLOSEMAR.CO, written by Nofik Lukman Hakim