Lampung Town- The Pondoh Salak comodities had initially thought to have originated from Yogyakarta identical from Yogyakarta, but had turned out not to be true. At Kabupaten Pesawaran salak were grown by Bumi Adnan and were able to produce pondoh salak which has unique characteristics.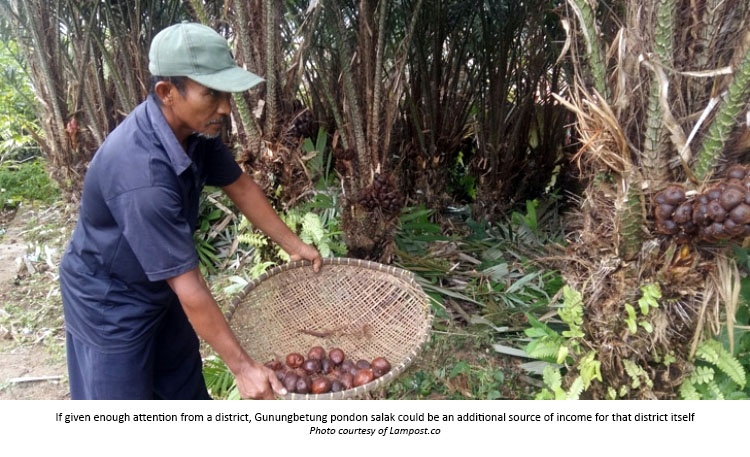 Pondoh Salak producing district which produces sweet and crunchy located at Gunungrejo Orchard, Gunungbetung neighborhood, village Wiyono, Gedongtataan, Pesawaran District. One salak farmer, Derajat (50), said that with modest capital and spurious assistance from family, salak planting initiative have helped in meeting his family's ends meet.
He admitted that work had been in salak planting since 1997. With a land area of ​​1/4 hectare with 650 trees, each season was capable of producing 1.5 tons to 2 tons.
In one year there are two seasons, the harvest season and the planting season. Each season the inevitable surge in price occurs quite dramatically.
"The increase in prices is usually at the beginning and end of the season. The price range per kilo can reach Rp7.000 to Rp8.000," says Derajat.
He revealed that during the period of the salak fruit by trunk of each tree, it could produce 4 to 8 bunches, which can be harvested 4 to 5 times in every season. "For a one-time harvest or ngunduh, each trunk can be collected 3-5 kg, sometimes more," he said.
The need for attention
In terms of marketing, Derajat admitted apart from local merchants, there had been orders from traders or collectors from outside Lampung, such as Palembang and Medan. In fact, in terms of promotion it was done by extention of friend to friend.
Therefore, he was hopeful the potential of crops owned Pesawaran District gets proper attention from the local government, in the areas of marketing and promotion. As seen from the plantation today, it was strategic and potentially able to increase the district revenue sources. Therefore, the location is a direction toward the attraction of the waterfall of Gunungbetung, which is famous for the beauty and serenity.
"As for the road infrastructure, it is sufficient to have it made out of smooth asphalt. So, when tourists who come to visit the location of the waterfall, they can bring along the produce from the local community and return back to their place or country, namely pondoh Gunungbetung."
Source: Lampost.co, written by Umar Wirahadikusuma