KUCHING, April 17 — The Sarawak government has set up a new company with a seed fund of RM100 million in its bid to increase the state's tropical fruit production for the export market.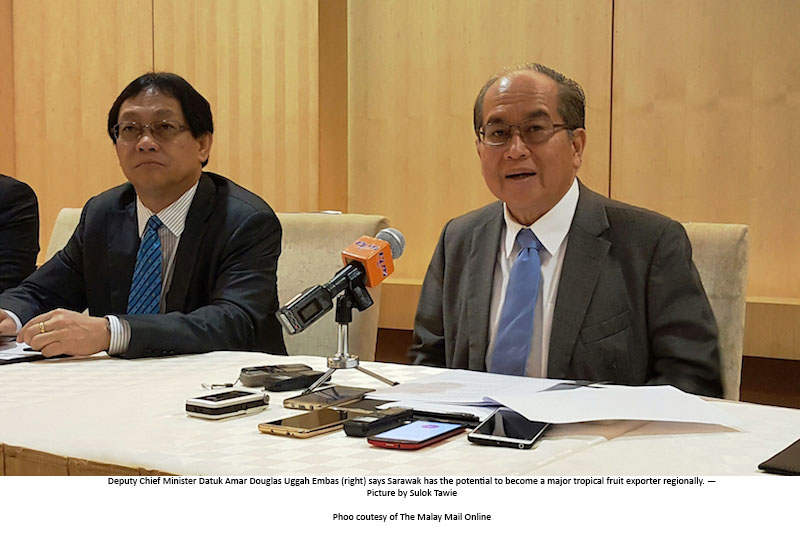 Deputy Chief Minister Datuk Amar Douglas Uggah Embas today said Sarawak Agriculture Products Export Corporation Sdn Bhd will be run as a private company under the state Ministry of Agriculture and Rural Economy.
He added that the state-owned company will be responsible for building and managing exports of Sarawak's agriculture products and ensure that there are sufficient export orders on a sustained basis.
"For a start, the corporation will focus on bananas, coconuts and durians for export to peninsular Malaysia and Singapore while the exports to China and Japan will be achieved with a longer timeframe due to administrative protocols involved," he told reporters after opening a seminar on Sustainable, Quality and Safe Agriculture Production here.
He said the corporation will take up equity in promoted agriculture production projects which are properly planned and managed for the purpose of utilising and upgrading technology.
"Once the projects are commercially viable, the corporation will withdraw its equity and let the various stakeholders run the projects on their own," he said, adding that the stakeholders could be farmers, landowners and investors.
He said suitable lands in Betong and Sarikei Divisions have been identified for the pilot projects to plant tropical fruits on a commercial basis.
Uggah, who is also the state minister of agriculture and rural economy, said the setting up of the corporation is part of a strategic plans towards modernising the agriculture sector as the state moves into the digital economy.
He believed that Sarawak has a huge potential to become a major tropical fruits exporter in Malaysia and in the region as it has about one million hectares of agriculture land.
"In the next three months or so, I shall convene an international conference with experienced foreign experts to be invited for the purpose of exploring opportunities in the production and export of tropical fruits by Sarawak," he said.
Sourced fromThe Malay Mail Online, written by Sulok Tawie