Even as the production of custard apple (sitaphal) is gradually declining due to the shrinking forest cover and fast-paced industrialisation in the coal belt areas of the district, the Horticulture Department has drawn up an ambitious plan to promote custard apple cultivation in the tribal sub-plan (TSP) mandals.
The move is intended to give a fillip to the cultivation of the much in demand custard apple known for its drought-tolerant properties in the Agency mandals to fetch sustainable income for tribal people and also match the growing demand.
Custard apple production had once flourished in predominately tribal populated mandals in the undivided Khammam district.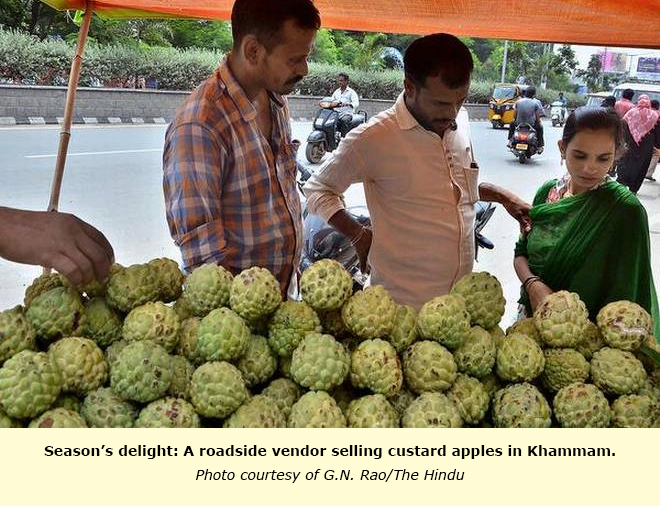 Industrialization impact
However, the diminished forest cover coupled with rapid industrial expansion took a heavy toll on cultivation of the commercially viable fruit.
The Horticulture Department has mooted an action plan to extend assistance to the farmers in tribal areas in cultivating high-yielding variety of custard apple to eke out a sustainable income.
The soil and climatic conditions in tribal areas of the district are quite suitable for cultivation of custard apple, said J Marianna, Assistant Director, Horticulture, Bhadradri-Kothagudem.
The demand for custard apple is growing manifold with the increasing awareness on the nutritional properties of the delicious fruit.
The department has extended assistance to a group of tribal farmers in Allapalli mandal in taking up custard apple cultivation on one acre under the National Horticultural Mission, he noted.
Efforts are on to create greater awareness among tribal farmers to take up custard apple cultivation in their localities to reap good dividends, Mr. Marianna asserted.
Source: