Tran Le Anh Khoa is now a third-year student at the HCMC Food Industry University majoring in analytical chemistry. Born in Tien Giang province, one of Vietnam's largest dragon fruit growing areas, he understands the problems of local farmers.
Growing dragon fruit is the major source of income of many local families. However, as the prices are unstable, it cannot ensure a stable life for farmers.
Merchants only collect products which can satisfy their requirements. Each piece of fruit must weigh 350 gr or more, have a natural red color, and must not bear fungus disease.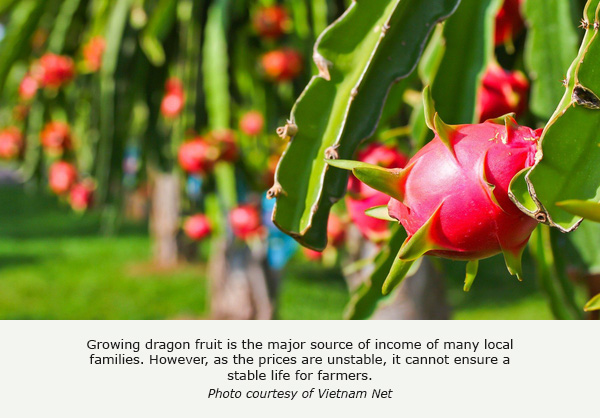 The remaining products which cannot satisfy the requirements will be sold at VND500 per kilo, thrown away or fed to cattle.
Khoa thought he could use bioproducts from the refused dragon fruit so as to minimize risks for farmers.
In March 2017, Khoa and his friends set about to work on the bioproduct to turn his idea into reality. The bioproduct is called Chitosan, made of waste products – dragon fruit and crustacean shell (shrimp, crab and cuttlefish)
The specimen bioproduct came out in early July and has very simple usage. Users just need to to dilute the solution with water and dip farm produce into the mixture, so that a biofilm will form outside, preventing the development of diseases and slowing the process of vaporization.
According to Khoa, with Chitosan, the efficiency of agricultural product preservation is three to four times higher than natural products. The biggest significance of the bioproduct is that Chitosan is biodegradable in the environment and safe for users.
The bioproduct is being tested by appropriate agencies for the certificate on meeting safety standards before it enters the commercial production stage and comes out to the market, slated for the end of this year.
Khoa said the price will be low because the input materials are not too costly. He plans to go to retail shops and farm produce processing factories to introduce his bioproduct.
"I hope that my bioproduct can be used to replace preservation chemicals and step by step replace chemicals used in agricultural production," he said.
Vietnam is a tropical country with many good tropical fruit. However, the fruit exports remain modest because of the problems in preservation.
Chu Hong Chau, deputy director of the Plant Quarantine Center, said that post-harvest preservation is the key to success.
Source: Vietnam Net